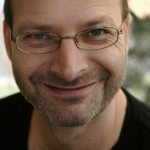 Profession
I have a bachelor in computer science and work with computers since around 1980. This means that I have been in the field since the beginnings of micro computing and have been going through its whole development. Today, I am working as an object oriented software developer for corporations in the finance industry. My strengths are in the area of server-side applications and middleware. I also have a user profile on Xing.
Family
I am married.
Interpreter
In some of my spare time I used to be an interpreter English-German-English in John Bellicchi's seminars since 1987. More informationen can be found on John's Site, his Portfolio, and the men's workshop pages.
Computer support
Much of my spare time is dedicated to the flawless working condition of computers. First of all, my own 🙂 but many of my friends rely on me, as well as some customers. All of this, of course, with fair compensation.
Blogging
I also take care of this little blog. But I leave the daily blogging to those who have so many important things to say to the public. I love the open source blogging tool WordPress and think it is great and professionally done.
Wetellyou
Furthermore, I am also doing consultancy and counselling on areas as diverse as computers and networking as well as general counselling on life and relationship questions. I do this on wetellyou.ch. Or did so at least in the past few years. I don't know what happened to the site operators, but those pages are many times unreachable lately. Which I find very unfortunate, because generally, that site offered a very good quality in the service that it offered. Check this out, too. If you feel I can help you in these areas in any way, please contact me. We most certainly can arrange for something that suits you.
Whereabouts
I am living in Zurich since 2001, and I moved to a new apartment in december 2007. The new address can be found here. There are also a few blog posts about the interior decoration, floor plan and the technical infrastructure (computer network at home).